Forget the lemons. We know what to do when life hands us lemons, and lemonade is just the not so creative beginning. There's lemons in furniture polish, cleaners, and laundry detergent. Honey-lemon tea can help soothe a sore throat, and socks soaked in lemon water and put on your feet can bring down a fever*. There are so many incredible uses for lemons. If life hands you lemons, that's cool.
But what do you do when life hands you a box of rotten peaches? Years ago, a friend told me this story:
At a time when dishonest peach salesmen roamed the country, a man bought a box of peaches from a roadside stand. When he got home and looked carefully in the box, he discovered that underneath the top layer of good fruit, everything else was rotten. You can't make peach cobbler or peach juice with rotten fruit. In fact, there's not much at all you can do with a whole box of rotten peaches. The peach pits are even poisonous.
What do you do when life hands you a box of rotten peaches?
The man was angry at first and went back to the roadside stand to complain, but when he arrived at the place, both the stand and the dishonest peach salesman were gone. What could he do?
What do you do when life hands you a box of rotten peaches?
The man walked home with his box. As he had paid a good price for the peaches, he didn't want to just throw it all away. After taking out the few good pieces of fruit, he took the rest to a place in his garden where nothing was growing. He dug some shallow trenches and buried the rotten peaches. He didn't just leave it at that. Over the next few years, he tended all of his garden, including the area where the peaches had been planted. When the first tiny seedlings appeared, he carefully weeded around them, keeping the soil moist. In the winter, he added mulch to protect the new trees from freezing.
It takes four years to go from peach seedling to peach harvest. That's a lot of patience.
I tend to get impatient when life hands me lemons. I spent many years dutifully trying to make lemonade, trying to cover up the sour taste by adding something sweet. Eventually I realized what a bitter aftertaste this had for me. For a long time after that, I simply complained about how sour the lemons were. It has taken a long time for me to learn all the other more creative things one can do with all those sour lemons. I still forget from time to time, but fortunately I have friends who gently remind me to shut up and stop complaining.
There are a lot of positive, inspirational quotes out there. I enjoy many of them, but this story is my favorite. It reminds me to have patience. It reminds me that thinking positively isn't enough and can, if not done properly, be a bit like adding sweetener to lemons. It's good, but not if I use it to cover up my challenges and pretend they aren't there. I need to remember to work positively with all the ups, downs, lemons, and rotten peaches in my life; and keep working, even when I don't necessarily feel positive.
It would be a lovely fairy tale ending if the dishonest peach seller came back and the man graciously gave him a box of good peaches. The thief may have even turned over a new leaf and become an honest man. Ah, but even good farmers are still human, and for all I know, he might have punched the salesman first, then given him a peach or two.
It's more likely the two never met again, for the story is true. I once knew this peach farmer, which makes this story just that much sweeter.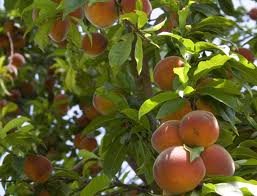 Written in honor of all those friends to whom life has recently given large boxes of rotten peaches and all those who have tended their gardens faithfully for so many years.
* http://www.steinerhealth.org/health/fever/ instructions for fever wrap